Existing Pharmaceutical Compounds We Have Developed
Royer Biomedical has developed and patented sterile polymer hydrogels which, depending on indication, can be injected or applied topically. The gels form a biodegradable, non-abrasive, flexible matrix or dressing and if combined with an active can provide therapeutically relevant concentrations of drug locally at the targeted site with decreased systemic concentrations, enhancing efficacy while reducing or eliminating systemic effects. Royer welcomes discussion with pharmaceutical firms to codevelop drugs that would benefit from this delivery technology.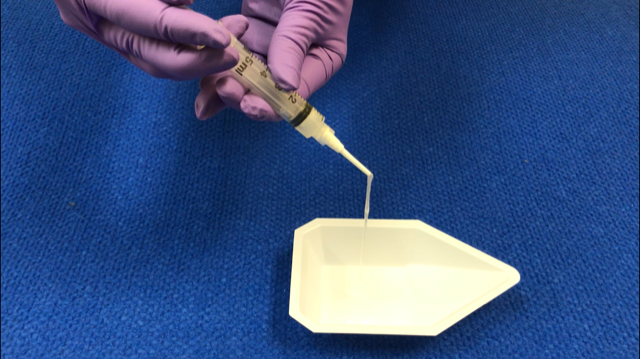 VetriGel® Wound Dressing is a veterinary medical device and is indicated for the management of wounds in companion animals. The product provides moisture to the wound, physical protection and a barrier against microbial infection. Its ability to gel in place and conform to the wound site makes it useful in the treatment of wounds in the veterinary setting.
Future development plans include incorporation of active pharmaceuticals where clinically proven sustained release of clinically relevant drug concentrations at the site of treatment, while avoiding systemic concentrations and associated toxicities, proves to be safe and efficacious. Likely candidates for development include antibiotics and chemotherapeutics.
AppliGel™ is being developed as a local, sustained delivery vehicle for human pharmaceutical applications where local, high concentrations of active pharmaceuticals could be beneficial.
Royer Biomedical has an active IND (Investigational New Drug) for AppliGel™- G (gentamicin) for the treatment of infected wounds. The company recently conducted "A Phase I/II, Open Label, Controlled Study to Evaluate the Safety and Efficacy of AppliGel-G™ [Gentamicin Sulfate Topical Gel] for Treatment of Mild to Moderately Infected Diabetic Foot Ulcers In Patients with Type 1 and Type 2 Diabetes". The results were encouraging for gentamicin sensitive wound infections and the company plans to pursue more extensive clinical trials as funds become available to pursue this promising application.
Matrix III is a calcium-based bio-erodible implantable matrix for depot delivery of actives. This technology enables local sustained delivery of therapeutics at the site of implantation while avoiding systemic exposure and resulting toxicity. Royer welcomes discussion with pharmaceutical firms to codevelop drugs that would benefit from this delivery technology.
Matrix III™ Cisplatin is the lead program for Royer Biomedical, having received MUMS (Minor Use Minor Species) designation from the FDA – Center for Veterinary Medicine (CVM) for the "treatment of cutaneous sarcoid in horses up to 3 cm in diameter, following surgical debulking via sharp excision". The cisplatin beads are currently in clinical efficacy trials, having already successfully completed Target Animal Safety Studies (TASS).

Matrix III™ Carboplatin is the next in line for veterinary applications where carboplatin is the preferred chemotherapeutic. Specifically, this product is focused on treatment of feline cancers, where cisplatin toxicity prevents use in cats.